Sponsored Post
Finally found time to blog about my first ever facial experience with
GLOWMAX Aesthetics
. Am very thankful to be invited down for a facial session last wednesday. To start off, here's a background about
GLOWMAX Aesthetics.
"
GLOMAX Aesthetics - The Face Artistry is nestled six floors above Singapore's famous riverside Clarke Quay next to The Central. We are everything a minimalist soho spa stands for: expertise, customization, modernity and privacy. The commitment to your skin deserves only the best.​
At GLOMAX Aesthetics - The Face Artistry, expect a superlative collection of ultimate face and body treatments boosted with award-winning aesthetics machines and celebrity skincare products. Our treatments are specially crafted for instantaneous results and meticulously executed by a team of highly-trained beauty masters."
(Just a disclaimer. All photos in this post are non-edited and I hope that you guys wouldn't be shocked at looking at my complete bare face.)
My face before facial. As you can tell, I do have congested pores on my cheek and t-zone area.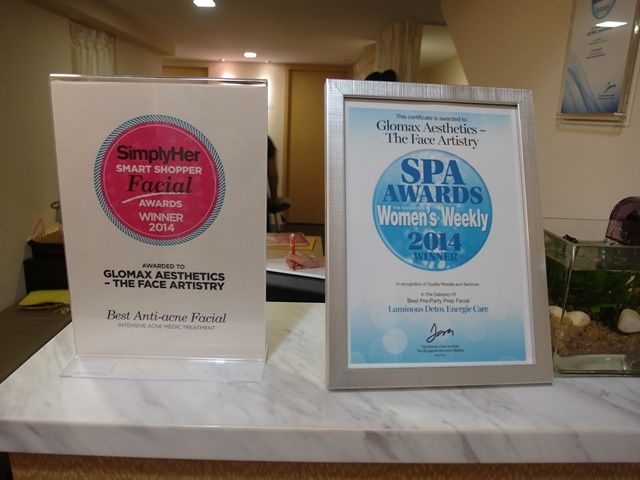 After doing a skin analysis and consultation, San, one of the friendly beautician there suggested doing the Intensive Medic Treatment which is their award winning treatment as seen in the picture above. The Intensive Medic Treatment is suitable for problem skin with congested pores and acne, start with a sonic cleansing that gently lifts impurities and dirt off skin surface before the problem areas are healed with a mild antiseptic high frequency. Combined with acne IPL to rebalance the sebum level, problem skin will dramatically clear up after each session.
Not sure if you guys are able to tell due to the unfocused pictures above but the yellow gross discharge is actually extracted from my congested pores and I know it's damn gross.
Probably the best part of the treatment where I nearly doze off due to the cooling sensation coming from the mask which makes it so relaxing.
And tadah! This is my bare face taken a week from my facial appointment. My face still glows and pores are so much less congested even after a week.
A big thank you to
GLOWMAX Aesthetics
and cheers to having #NoFilterSkin!!
Right now, here are some good news for my readers:
FOR FIRST TIME CUSTOMERS:
Enjoy $88 Full 90 mins Acne Medic Facial UP$150 when you quote "Nicole Chew" when making appointment.
FOR EARLY BIRDS:
Enjoy 40% OFF any individual facial/body treatment for a
10am-2pm
slot.
WIN FREE FACIAL:
2 FREE FACIALS FOR 2 LUCKY WINNERS! Worth $108-$400 each!
HOW TO WIN THE FACIAL:
1.Post up photo(s) of your troubled area(s) with this liner "I want to win @glomaxaesthetics free facial for #nofilterskin!"
3.Two lucky winners will be chosen on
15 November 2014
.


Terms & Conditions: Winners are required to write a short feedback on GLOMAX Aesthetics IG with their before & after facial photos.
T:
SMS: